Private GCE 'O' Level Students Taking POA, Principles of Accounts!
呼吁所有即将要考O水准POA(基础会计)的私人考生们
Do you know that there is a revised POA (7087) syllabus in year 2020?
您了解2020年最新的修订版POA(7087)课程大纲吗?
Do you know that you can still register for the existing POA syllabus 7175 in year 2021?
您是否知道您仍然可以在2021年申请注册现有的POA 课程7175?
Would you like to learn from the POA specialist who is able to provide a clear explanation of concepts and provide exam solutions "on-the-spot"?
您是否愿意向POA专家学习呢?他能够现场清晰,准确的为您讲解以及提供考试对策。
Would you like a specialist to take care of POA for you?
Over the last few years, hundreds of C6, D7, E8 or even F9 students have been transformed to As and Bs within a short period of time (some within 2 months from F9 to A2) using the a proven and reliable 'SMART method' formulated by Mr Quek after being refined by teaching many batches!

过去的几年中,在郭老师精制的教学计划下,数以百计的C6,D7,E8 甚至F9学生已经在短时间内提高到B+或A+(有一些甚至在2个月内从F9至A2),他的教学方法,成就有目共睹,他使用有效可靠的方法让学生提升,进步。
He is the author of the POA Topical Revision Notes (Shinglee) used by more than 140+ schools in Singapore. More than 10,000+ copies of his POA assessment books have been sold since its first launch in 2016. Over the last 14 years of teaching POA, he has clocked more than 14,000 hours of teaching and helped over 420+ struggling POA students to achieve B3 or better grades. He is a former auditor from Deloitte and Touche (big-four firm), a current chartered accountant of Singapore and an associate lecturer with a university in Singapore.
郭老师是《POA专题复习笔记》(Shinglee版本)的作者,该书被140多个本地学校采用。自2016年首次发行以来,这本笔记已经售出超过1万多本。在过去14年的POA教学生涯中,他的教学时数超过1万4000个小时,并帮助超过420名POA学生获取B3或者更好的成绩。他曾是Deloitte以及Touche会计师事务所的审计师,现在是新加坡特许会计师,也是一所大学的讲师。
All his teaching materials used in his tuition classes are specially designed in-house, based on the latest MOE and SEAB syllabus, and adheres to the 'model marking scheme' by (UCLES) University of Cambridge Local Examinations Syndicate.
郭老师所有的教学材料都是根据最新的教育部以及SEAB课程大纲,剑桥大学评分标准方案(UCLES)制定以及编排的。
Do you wish to find out what are the key differences between the existing and revised POA syllabus?
您是否希望了解现有与修订版本的POA教学大纲之间的差别?
7087 Principles of Accounts 'O' Level
7175 Principles of Accounts 'O' Level
Frequently Asked Questions​
4 Common Key Mistakes Made By Private Candidates Taking POA
Start your POA Journey with Us
everything you need to know before signing up for gce o level POA exam
At Ace Your POA, our principal tutor, Alex Quek, CA (Singapore), has planned out the entire year's lesson plan for all his POA students. The in-house curriculum is updated yearly to ensure that it is in line with the latest MOE syllabus and examination trends. Yes. Examination trends. We believe that understanding the POA examination trend is a battle half-won. Alex, the current POA TYS ten-years series writer, often studies and understands the current exam trend in order to anticipate the topics that are likely to be tested. This helps students perform well for their school prelim and GCE examination.
Joining our secondary 3 POA tuition classes will also save your child half the time, trying to figure out textbook concepts. In addition, your child will gain the necessary confidence to excel in POA consistently. Furthermore, the time saved in figuring out the POA textbook, will allow your child to make better use of the time saved to revise other subjects.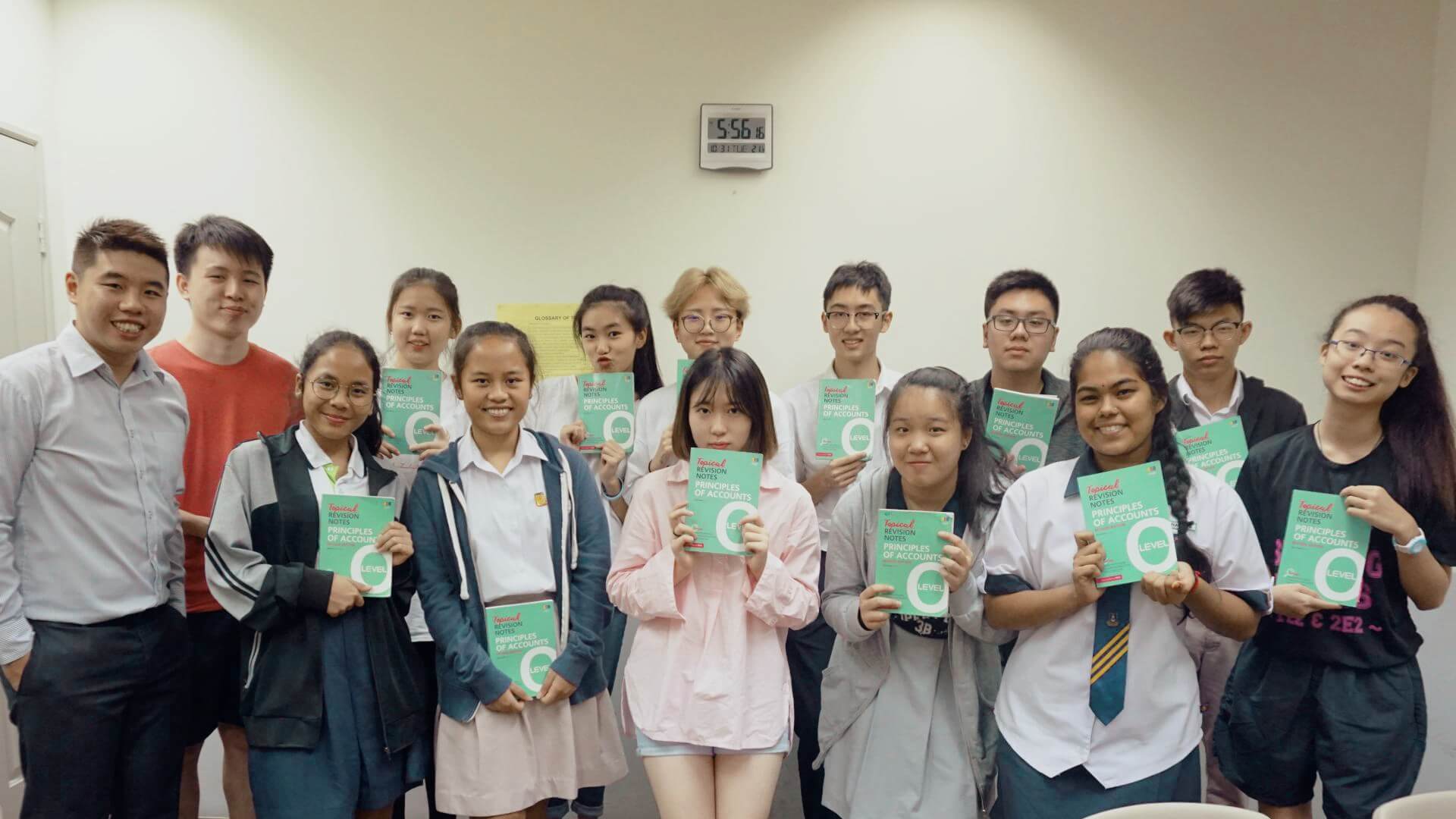 Therefore, shouldn't the first consideration for getting a POA tuition be:
1. What is scheme of work (SOW)?
2. Are the worksheets or notes given to students for EACH lesson?
3. Are there enough practice questions provided for students to do well in examinations?
If a POA Tuition is not even able to provide a systemic plan to help you, how are you going to be sure that you are going improve?
1. 什么是工作计划?
2. 每节课是否有作业以及笔记?
3. 是否有足够的练习题让学生在考试中取得优异成绩?
如果POA补习班不能提供一个制定计划来帮助你,那你怎么能确保你会因此进步呢?